It all began at around the age of 3, in the kitchen of the house I grew up in. One day, I decided to cook something…well…prep something and have my mom cook it for me. It was a not so glorious selection of items from our refrigerator and pantry. This motley medley included ingredients like apples, raisins, juice, vinegar and many others that I don't even remember…all I know is, it was a lot of random things. My mom fried everything up for me, and raved about how delicious my creation was. From then on, I was hooked.
I loved the kitchen. Mom would bake and I would talk to the oven, lol. I'd drape a dishtowel over the handle of the oven door and periodically slide the makeshift curtain aside to look in to the window of the oven and ask "is it ready Mrs. Cook"? It was so much fun to be part of my mom's baking, and I couldn't wait to be allowed to use the oven on my very own. "Mrs. Cook" and I baked mom's goodies together for another 3 years.
Then it came, Christmas morning at the age of 6, my very own oven…my Easy Bake Oven. I was so excited, and put it to use that very morning, baking a strawberry cake for my Aunt Kay, with strawberry frosting out of the cute little boxes of mix. Ironically, my avocado green oven matched my mom's oven…am I giving away my age? Yup, it was the groovy 70's. These happy times were the inspiration for my quick tips and tricks videos, Easy Cake Lovin', with my Easy Bake Oven. It's a throwback to those fun, simple times…just promise not to laugh at my hair and outfits ;).
My oven kept me very busy, and I began making my own recipes…no more cute mini box mixes for me. I used it until I was allowed to use the big oven. Well, being allowed to use the big oven started a whole new trend…I learned how to play sick. I'd stay home from school, watch Julia Child, The Galloping Gourmet, and Wok with Yan, and I'd bake. Mom and Dad would always come home to a treat.
We'll fast forward through high school (you don't wanna know, lol) to graduation. What was I going to do with my life?   Should I go to school for dental hygiene or, do I get in to hairdressing?   Then one day, while looking through the want ads I found it…a job I really wanted. The ad read "cake decorators wanted, no experience necessary". I went and applied the very next day, and the rest is history. My 30 plus year career has taken me down a very sweet path having owned and operated a custom cake shop (while studying interior design), then teaching for Wilton which lead to a role as Key account manager for Wilton International.
The next chapter in my career was with Pillsbury where I worked in the test kitchen and was the territory sales manager in Ontario.   I then took on a role as an instructor at the Bonnie Gordon College of Confectionary Arts in Toronto, and now focus on my client base making custom cake orders and teaching privately, and at cake shows and schools. To say my career has been a "sweet one" is an understatement. I've learned so much along the way, and I can't wait to share it with you. Fast forward to today; I want you to be a part of my next chapter. I'm here for you!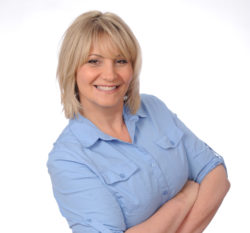 …..I want you to be a part of my next chapter. I'm here for you!
When I say it, I mean it. One of my favourite things to do is share and help people, and the reason for this new venture. Over the years, I've managed to figure out a thing or two. I've figured out a lot of ways to make super clean cakes (what I'm most known for, I think). I've discovered that these techniques not only make for clean cakes but that they also made my job easier…and I'm still learning. We all must continue to learn, innovate, and enjoy the process.
The cakes we'll be making will be eye catching, with in depth instruction…but it's not just about cake, as we grow it'll be about everything. Everything involved in the event that requires the cake. Want to create a super fab sweet table? We can help. Want to send out super cute invites that will have everyone saying "YES, we'll be there"! There are so many great things right around the corner, and as one of our first members, you are in a unique position. Make suggestions and ask questions…it's you guys that will help us to find the path we should follow to better serve you.
So, come along for the ride and let me help you to take it to the next level!!
Susan
< Back to List